Welcome Page
Thanks for joining us at the copywriters forum. We're always happy to have another quality writer join our community.
What this site is about -
We're a copywriting discussion platform. That means all you have to do is register your username and you can join any of the conversations, and talk with other writers, about writing.

You can reply to someone else's post or you can start your own topic (post your own copywriting thoughts or ask copywriting questions for others to answer)

Of course the best way to understand this site is to play around with it and get a first hand feel for how it all works.

And here's a few pointers to help you get started...


How to navigate this site -

All the different copywriting categories can be found on the "Main Forums" home page. When you start a new topic just try to put it in the most likely category, that way others can more easily find it and reply back to you.

To start a conversation simply click on any of the categories, and click the "New Topic" button.

To reply to someone else's topic simply click on the "Post Reply" button.

You can also quote someone else's post in your reply by clicking the quote " button in their post. And if you like something another member said don't be shy about clicking the thumbs up

icon to thank the user for the post.

Your profile page / User control panel
Members, and visitors to the forum, can click on your username (or avatar) anywhere on the site and be taken to your personal profile page to learn more about you.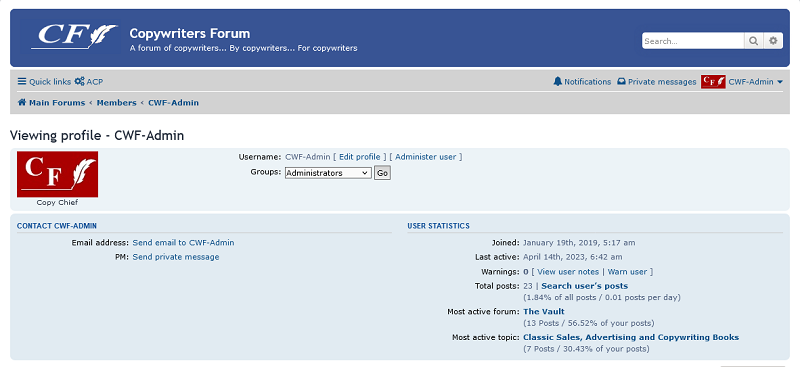 PERSONAL PROFILE PAGE



When you're logged in, you can change settings in your profile (change your avatar, change notification settings, add a short bio and other contact info to your profile page), and a bunch of other stuff.

Again, the best way to understand how it works is to play around with it and get a first hand feel for how it works.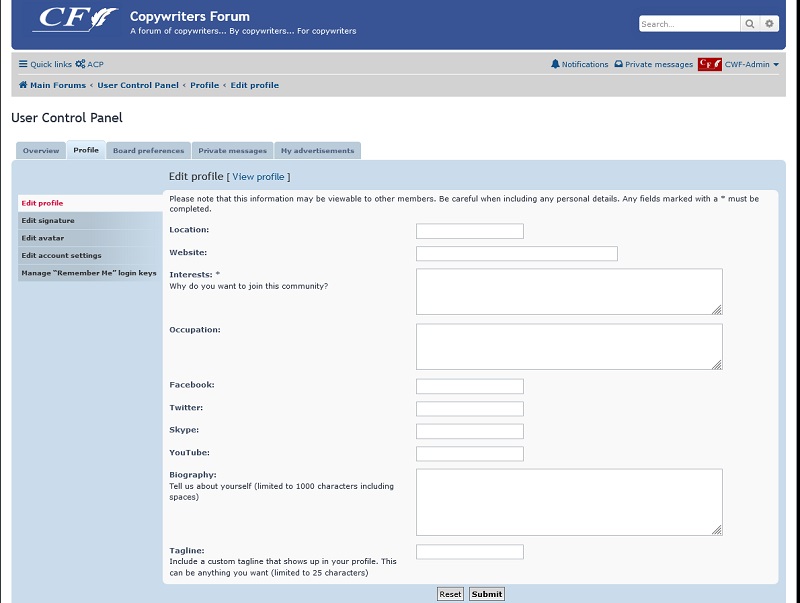 USER CONTROL PANEL



To access your user control panel, you can visit your profile (when logged in) and click on the "edit profile" link right next to your username.

Optionally, look near the top of the website (when you're logged in) and you'll see the gray bar just below the header. On the right hand side you will see links for notifications, Private messages, and your registered username.

Click on your username and a drop down menu should appear where you can click on the "user control panel" link.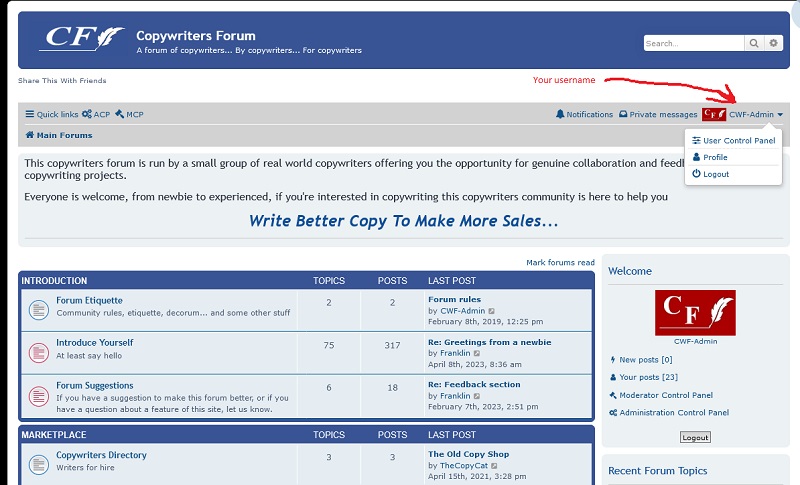 Finally, while everyone is welcome here, we just want to keep the forum friendly and on purpose. So just make sure you read our forum rules.

We only have a few rules (don't harass other members, don't spam the community, etc) and when everyone plays by these simple rules we're all better off as a group.

Here is a link to the forum rules.

viewtopic.php?f=4&t=3


I hope this short introduction helps you get started enjoying our community.

If you have any question, or any suggestions, don't hesitate to let us know. I think you'll find we're a pretty friendly group of people.
.